Recommended Global Nutrition Webinars & Conferences
Asia Pacific & Middle East
Nutraceuticals Conference 2021
About Us
The 31st International Conference on Nutraceuticals and Natural Medicine welcomes all the participants for the conference which is scheduled for November 15-16, 2021 in Tokyo, Japan. This event will provide an international platform to all individuals around the world to share their research and knowledge.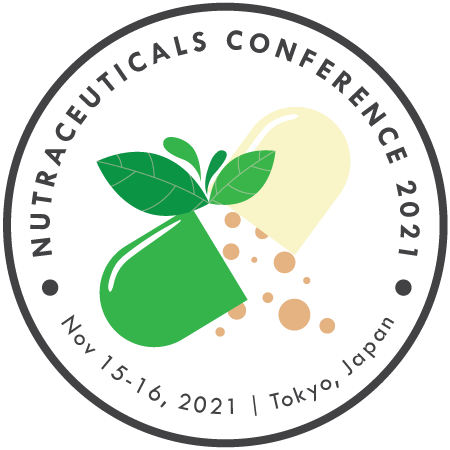 The core objective of the conference is to provide a platform for exchanging ideas, establish networks and increasing awareness about recent trends and developments in the field of natural medicines and nutraceuticals through presentations, exhibitions, workshop, interaction and symposium in the conference.
Young researchers, Scientists, Academicians, Business professionals and all other interested participants are invited to join us for oral, poster, video presentation and other interactive sessions to exchange their knowledge among all the attendees to discuss the technological advancement in the field of natural medicine and nutraceuticals.
Details of the event
For more details contact : [email protected]
Why To Attend
Conference will provide you the finest opportunity to meet and interact with experts of the field, Head of the organizations, Business professionals, Healthcare Professionals, Young scientists, Food Industry professionals, Nutritionist and other respective personalities of the field. This event will provide a platform to exchange knowledge about latest research, advancement, exploration of new applications, technologies and trends in the field of natural medicine and neutraceuticals.
Target Audience
Research Heads from Research Centers
Nutraceutical specialists in Pharmaceutical and Life science
Industrial experts
Marketing groups of Industries
Directors and Professors from Universities and Institutions
Post-doctoral and PhD students working on nutraceutical method improvement
Theoretical researchers working on deriving Nutraceuticals
Natural medicine practioners
Session Tracks
Track1- Nutraceuticals
Nutraceuticals are products derived from food sources that provide both nutrition and medicinal benefits.
Nutraceuticals are also known by the following terms:
Medical foods
Designer foods
Phytochemicals
Nutritional supplements
Dietary Supplements
Track 2-Dietary Supplements
Dietary supplements are those products that contain concentrated bioactive nutrients from a food source processed into a suitable dosage form. These supplements can contain one or more of the following: amino acids, vitamins, herbs or other botanicals, minerals, important metabolites, and certain enzymes.
Dietary supplements are available in tablets, capsules, powders, and liquids, gummies, energy bars, and any other suitable forms.
Track3-Functionals Food and Probiotics
Functional foods are any food or food ingredient that provides a health benefit other than basic nutrition.
Probiotics are live microorganisms which provide health benefits when consumed by improving or restoring the gut flora
Track4- Nutraceuticals and Prevention of Disease
Nutraceuticals play an important role in preventing the onset of chronic diseases and reduce the complications involved. Evidence suggests they are used in the prevention and treatment of cardiovascular diseases, cancer, diabetes, obesity, and inflammatory-based diseases.
Improve Eye Health

Improve Immune Function

Improve Gut Health

Support Reproductive Health

Treat Inflammation
Track 5- Nutraceuticals in Sports
Nutraceuticals are useful in sports medicine as they help athletes improve their performance and reduce oxidative stress and mitochondrial dysfunction, which occurs due to heavy exercise.
Particularly, mitochondria-targeted nutraceuticals (MTNs) such as resveratrol and quercetin, have been shown to have antioxidant effects at a molecular level, which improves mitochondrial bioenergetics and leads to better exercise performance and recovery.
Track 6- Nutraceuticals in Animal Health and Diseases
Nutraceuticals have been used for thousands of years for the prevention and treatment of human and animal diseases. Nutraceuticals are used in animals against diseases of the central nervous system (CNS), cardiovascular, respiratory, musculoskeletal, hepatic, renal, immune, and other systems. Some diseases are more prevalent in certain species than others, such as osteoarthritis in horses and dogs, and type II diabetes in dogs and cats.
Track 7- Nutraceuticals and Neurodegenerative Diseases
Research shows that nutrients and nutraceuticals play an important role in the prevention, management, and treatment of mental health disorders and psychological functioning.
Many nutrients and nutraceutical compounds including omega-3, vitamins B and D, magnesium, iron, zinc, curcumin, lycopene, and b-carotene results in improving mood, stress, anxiety, depression, and cognitive functioning.
Nutraceuticals with antioxidant properties help in prevention of neurodegenerative diseases such as Parkinson's and Alzheimer's disease.
Track 8- Dosage and Delivery Techniques
To enhance the efficacy of nutraceuticals, delivery systems are greatly needed to protect nutraceuticals from the harsh conditions of the gastrointestinal (GI) tract. Drug delivery systems using nanotechnology, such as biocompatible polymers, including smart polymers that are stimuli responsive are used, various drug delivery systems were adopted, including nanoparticles, liposomes, dendrimers, phytosomes, nanoemulsion and others.
Track 9- Cosmeceuticals
Cosmeceuticals are products that have both cosmetic and therapeutic effects, and are intended to have a beneficial effect on skin health and beauty. Like cosmetics, they are applied as creams or lotions but contain active ingredients that have an effect on skin cell function. In some cases, their action is limited to the skin surface (such as exfoliants), while others can penetrate to deeper levels, either enhancing or limiting normal skin functions.
Track 10- Regulation and Marketing of Nutraceuticals
The regulatory pathway to market nutraceuticals product is either dietary supplements or food fortification. Both dietary supplements and conventional foods can make approved health claims and qualified health claims, but these are limited and require costly and time-consuming regulatory process within the FDA. There should be a harmonization of food regulations around the world.
Track 11- Nutritional Genomics
Nutrigenomics is science that deals to understand how the food we consume exerts an impact upon on the functioning of our genes. There is a growing understanding that gene function plays a major role in our dynamic health states, and that DNA plays a role not only in determining our inherited traits our risk of disease also.
Track 12- Natural Medicine
Natural medicine, also called herbal medicine, has been around for centuries. Natural medicine is commonly practiced by people who prefer to treat symptoms and illnesses with natural remedies rather than pharmaceuticals.
Natural medicine can also be referred to as naturopathy; it is a form of alternative medicine which involves homeopathy, herbalism, acupuncture, diet and lifestyle counselling.
Track 13-Traditional Chinese Medicine
Traditional Chinese medicine is a healing approach that originated in China thousands of years ago. Often referred to as "TCM," practitioners use herbs, diet, acupuncture, cupping, and qigong to prevent or treat health problems. In TCM, the treatment would depend on diagnosing the imbalance different from modern medicine which is based on diagnosis
Track 14- Ayurveda
Ayurveda is considered by many scholars to be the oldest healing science.
The principles of many of the natural healing systems now familiar in the West have their roots in Ayurveda, including Homeopathy and Polarity Therapy.
Ayurveda places great emphasis on prevention and encourages the maintenance of health through close attention to balance in one's life, right thinking, diet, lifestyle and the use of herbs. In Ayurveda, body, mind and consciousness work together in maintaining balance.
Track 15- Uses, Regulation and Marketing of Natural Medicine
The use of herbal medicinal products and supplements has increased tremendously over the past three decades. Although some herbal medicines have promising potential and are widely used, many of them remain untested and their use also not monitored. Various advertisements in the mass media including television and radio programmes have significantly increased consumers' awareness and given the herbal products undue respectability and credibility.
Some popular herbal medicines are
Track 16- Alternative medicine
Traditional alternative medicine. This field includes the more mainstream and accepted forms of therapy, such as acupuncture, homeopathy, and Oriental practices. These therapies have been practiced for centuries worldwide. Traditional alternative medicine may include
Acupuncture
Ayurveda
Homeopathy
Naturopathy
Chinese or Oriental medicine
Track 17- Diet and Herbs
Over the centuries, man has gone from a simple diet consisting of meats, fruits, vegetables, and grains, to a diet that often consists of foods rich in fats, oils, and complex carbohydrates. Nutritional excess and deficiency have become problems in today's society, both leading to certain chronic diseases. Many dietary and herbal approaches attempt to balance the body's nutritional well-being. Dietary and herbal approaches may include:
Dietary supplements
Herbal medicine
Nutrition/diet
Market Analysis
The global nutraceutical market size was valued at USD 382.51 billion in 2019 and is expected to expand at a CAGR of 8.3% over the forecast period. The global nutraceutical market size is projected to reach USD 722.49 billion by 2027, expanding at a CAGR of 8.3% over the forecast period, according to a new report by Grand View Research, Inc. Rising awareness regarding calorie reduction and weight loss in countries, including U.S., China, and India, is expected to promote the application of nutraceuticals, which, in turn, will have a substantial impact on the industry growth. Favorable outlook towards medical nutrition in light of the increasing application for the treatment of cardiovascular disorders and malnutrition is likely to stimulate the growth of dietary supplements. Rising healthcare costs, coupled with the growing geriatric population across the world, are anticipated to assist the growth of the global functional food industry over the forecast period. The nutraceuticals industry is characterized by the presence of key international players. Key industry participants include Cargill, Incorporated, Archer Daniels Midland Company, DuPont, Nestle S.A, Danone, General Mills, Innophos, WR Grace, and Amway Corporation.
Asia Pacific emerged as the key region in the market for nutraceuticals in 2019 on account of growing health concerns among consumers and increasing awareness regarding nutraceuticals. Additionally, growth in the aging population, changing spending patterns on healthcare products, and changing lifestyles has enhanced the growth of the nutraceutical industry in Asia Pacific. Vast product portfolio and government regulations on nutraceutical products are a few factors suppressing the nutraceuticals industry growth. However, the growing trend of food fortification with nutraceutical products is anticipated to create a growth opportunity for the nutraceuticals industry.
Growing trend among consumers to alter dietary habits is likely to boost the demand for nutraceuticals. The consumer belief that improper diet results in increase in costs on pharmaceuticals is anticipated to boost the demand for nutraceuticals. This would also help the government as it would result in lesser expenditure on healthcare and low social security costs.
Participation Options
Nutraceuticals Conference 2021, provides the participants with different modes to participate under ACADEMIC / STUDENT / BUSINESS Category
SPEAKER (Oral Presentation) : 25-30 minutes (only one person can present)
SPEAKER (Workshop) : 45-50 minutes (more than 1 can present)
SPEAKER (Special Session) : 45-50 minutes (more than 1 can present)
SPEAKER (Symposium) : more than 45 minutes (more than 1 can present)
DELEGATE(only registration): Will have access to all the sessions with all the benefits of registration
POSTER PRESENTER: Can present a poster and avail the benefits of delegate
REMOTE ATTENDENCE: Can participate via VIDEO presentation or E-poster presentation
EXHIBITOR: Can exhibit his/her company's products by booking exhibitor booths of different sizes
MEDIA PARTNER
SPONSOR
COLLABORATOR
For Researchers & Faculty:
Speaker Presentations
Poster Display
Symposium hosting
Workshop organizing
For Universities, Associations & Societies:
Association Partnership
Collaboration proposals
Group Participation
For Students & Research Scholars:
Poster Competition (Winner will get Best Poster Award)
Young Researcher Forum (YRF Award to the best presenter)
Student Attendee
Group Registrations
For Business Delegates:
Speaker Presentations
Symposium hosting
Book Launch event
Networking opportunities
Audience participation
For Companies:
Exhibitor and Vendor Booths
Sponsorships opportunities
Product launch
Workshop organisation
Scientific Partnership
Marketing and Networking with clients
For more details, contact Olivia Griffith (Program Manager)
Email: [email protected]
To Collaborate Scientific Professionals around the World
Conference Date November 15-16, 2021
For Sponsors & Exhibitors
Useful Links
Past Conference Report